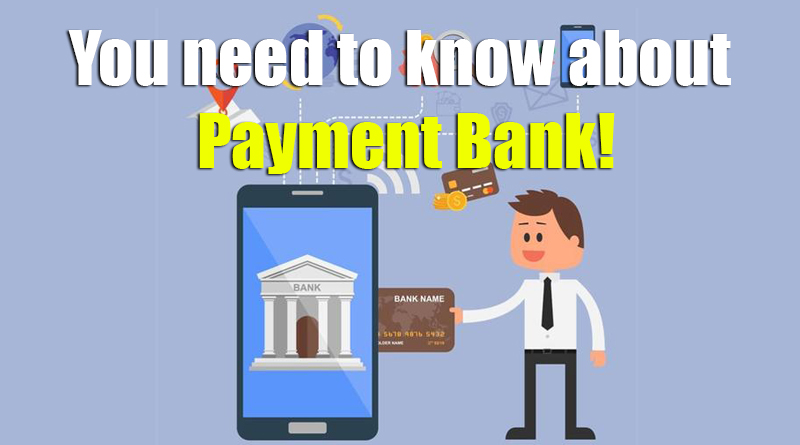 Payment bank is just like another normal banks with sum restriction. These banks will be fully paperless. These banks cannot issue loan and credit cards. These banks can accept a restricted amount of deposits which
is caped to 1lakh INR currently.
Payment bank customer can transfer their money from payment bank to other bank using IMPS and NEFT transfer. ATM and Debit card will be same and work on all ATM machine installed by any private or public sector banks.
Idea History of payment bank!
Committee on "comprehensive financial service for small business and low income households" headed by Dr Achiket Mor proposed the idea of payment bank in his report in 7 January 2014.
On 1st August 2015 RBI gave licences to eleven entities to launch payment banks. Among 11 entities 3 three have surrendered their licences those entities are Chalomandalam Distribution Services, Dilip Shanghvi Sun Pharmaceuticals and Tech Mahindra. Only four entities have a clear business model in place to start operations in a realistic time frame, which is 18 month starts on August 2015.
[the_ad id="685″]
Bharti Airtel-owned Airtel M Commerce Services Ltd, FINO PayTech Ltd, Vijay Shekhar Sharma's Paytm
Payments Bank and the department of posts are the applicants with clearly defined business plans and  timelines in place to launch operations.
Airtel has already launch his payment bank in Rajasthan. PayTM is starting his payment bank from 15th January 2017.
Difference between banks and payment bank?
 
Payment Banks
Banks
Issue Debit/ATM/Internet
Banking/ Mobile Banking
Yes
Yes
Issue Loan
No
Yes
Deposit Limit
1 Lakh/Customer

(Can increase
in future)

No Limit
Open Current/Saving A/C
Yes
Yes
Open NRI Account
No
Yes
Comments Your Suggestions