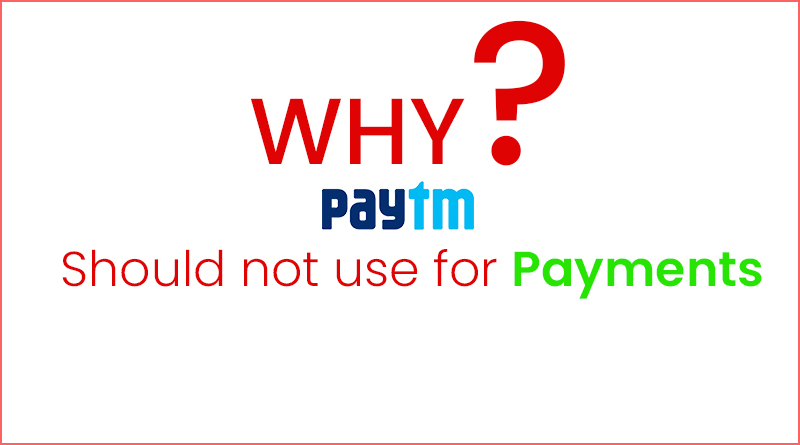 PayTM is now India's most popular e-wallet which provide services in recharge and bill payments, banking, lending and insurance to consumers and merchants. PayTM was founded by Vijay Shekhar Sharma in August 2010, and is based out of Delhi NCR, India.
Now paytm becomes single point for their customers for Recharges, bill, insurance, fee etc. They also have large number or local merchants who take paytm as payment option, which is best alternate of POS machines for local vendors.
PayTM becomes very popular among their customers because of their huge cash back offers on its website for their all services. Now these days paytm is not giving too much cash back offers for existing merchants and customers. They are focusing on new merchant vendors like ticket bookings.
We must think twice when we need to pay any bill or make any payments. Here we will tell you where we should prefer PayTM as payment option and where it's better to ignore it. As every spent can earn you something.
Places or situation where you should never use PayTM for payment option
Patrol Pump
If you are at petrol pump and fueling with more than 500 never use paytm as payment option you will loose your valuable reward points.
Any Payments which don't attract MDR charges
If you are paying insurance policy don't use PayTM as you will loose your reward points which will help to earn from your credit cards.
Why we are saying so?
Why we forcing to do so, User might think that card companies will also give reward point when they add money to their paytm wallet. But card holder companies have changed their terms of use for their card, where they have mention that transaction done on paytm website will not attract any reward point. HDFC Moneyback card is one of them, means you are loosing your reward card benefits.
So before applying for credit card or being existing customer of this kindly confirm with your card customer care.
More in PayTM
Places or situation where we use PayTM as payment option
Cashback offers
PayTM is popular because of its cashback offers so no need to think again if they are providing any cashback offers.
At petrol pump
If you are at petrol payment pump and want to fuel your car or bike and not having too much cash. Always use PayTM as payment option as it will cost you less than other options like debit or credit card as they charge convince fee 2% + service tax on convince fees.
Note: Use paytm only when you want to fuel of below 500 rs. As card companies don't charge anything above 500 and you will receive good reward as well.
School Fees
Like petrol pumps, Card company charge minimum 1% + Service charge on school fees paid via credit card.

You can save your transaction charges by paying school fees at paytm website, if it's registered on PayTM as paytm doesn't charge anything extra.
Small Vendor
Buying things or shop at small vendor you should always ask for paytm option for payment as small vendor can't afford the cost of swipe machine because of minimum transaction and other MDR charges.
Comments Your Suggestions