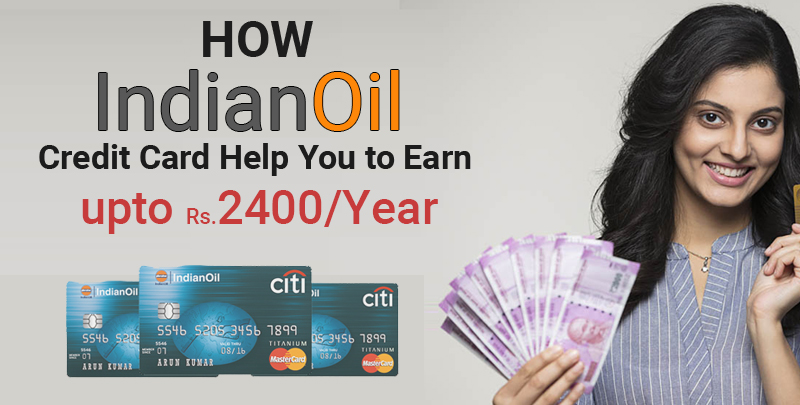 Lot's of personal finance expert suggesting not to use credit cards. Even some big financial guru Dave Ramsey says, "Responsible use of a credit card does not exist." He advises using cash instead. But contrary to popular belief, if you use your card wisely or responsibly you will not only be benefited but even you can earn up-to 2500 a year from it. For this you must be aware about the benefits of credit cards.
How car will help you to earn?
Do you own car and spend thousands of money on fuel? Then card you should have is CITI Bank's Indian oil card. This will help you to earn 2400 minimum with your daily expenses, shopping and fuel purchase.
Features of CITI Bank's Indian Oil Card
Full waiver of the fuel surcharge (1%) on fuel purchases.
4 turbo points on 150 fuel purchase.
2 Turbo Points on Rs.150 at grocery and supermarkets.
1 Turbo Point on Rs.150 spent elsewhere like Shopping, Dining and more.
How it become 2400? Explain!
Amount Spent
1 Rewards Point value
Single Point Count
Reward earn / 150 rs
Money Earned
5000
150
33.33333333
4
133.3333333
4000
150
26.66666667
2
53.33333333
1000
150
6.666666667
1
6.666666667
 .75% from Government for spending on fuel by card
37.5
 Money Earned per month
230.8333333
On a minimum spend of 10,000 you will earn 230 rs. per month which will lead you to 2760 rs. in a year.
Note:- Citi Card comes with Rs. 1000 annual fee which will not applicable when you spend more than Rs. 30000 in a year.
Comments Your Suggestions