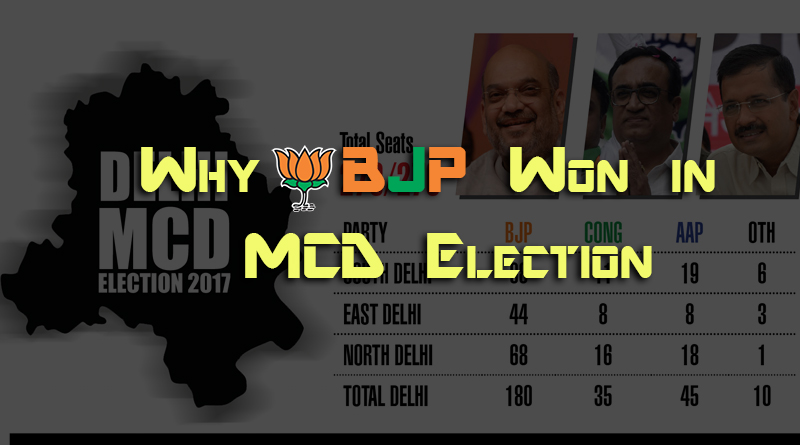 BJP supporters are very happy after winning the Delhi MCD elections. But do they really deserve the victory. Does BJP's MCD really did well in last 10 years which cause this massive victory in MCD election?
Answer is no! Reason we all know that there is no development done by MCD councillors on ground level and councillors are most corrupt therefore BJP didn't give tickets to any of them.
Popularity of Namo
Modi has regained his magic after losses in Delhi & Bihar assembly elections. Now BJP is riding a Namo popularity wave where almost any candidate they project will be acceptable to the Indian populace be it a good candidate, an average candidate or low and behold.
Arvind Kejriwal won historic mandate because people has expectation of clean politics. But instead of doing good governance he spent his time in blame game.
Remove corrupt councillor
BJP knows about the work done by their counsellors in last 10 years, therefore BJP cleverly denied tickets to all sitting corporators to shed anti-incumbency in the name of 'giving a chance to fresh faces'.
You can remove their faces easily but it would have been very difficult to remove the impact of their actions (or lack of it) unless you bring in someone like Modi, whose image can overcome all the negativity. But at the same time, it would have been highly unworthy to bring the PM in a municipal election.
[the_ad id="685″]
APP Negative and mislead campaign
In last 10 years MCD looted the Delhi, but as BJP have replaced all his candidates AAP is not able to
AAP becomes a party, which don't speaks about his work but speaks about another's mistakes. Kejriwal telling the voters that if BJP will come in power in MCD more dengue cases will happen.
He used distorted picture of BJP leader Vijender Gupta in campaign posters backfired. In which Arvind Kejriwal said;
"If someone in your home falls ill, then you are responsible as you voted for the party which is synonymous to chikungunya, malaria, dengue and garbage,"
APP not able to educate people about MCD corruption
Everyone knows that BJP did nothing in last 10 years but AAP workers not able to convey this info to voters.
The core BJP voter isn't even aware of the way MCD has looted Delhi and made it dirty. Everyone thought that MCD strikes were due to the funds been cut short by the Delhi government, when that was not the case.
Rajouri Garden bypoll defeat for AAP
In rajouri garden bypoll AAP requested to people to reward him with victory for their good governance done in schools, health etc by the state govt.
But after the bypoll result things took a turn for the worse. Delhi citizens were soon started to be addressed in a threatening manner.
His campaigners started terming them as thankless people. Cussing people, cursing them of being infected by diseases if they voted for BJP were some of the nice statements made by The Supreme Leader himself. This negative campaign upset many people.
Comments Your Suggestions