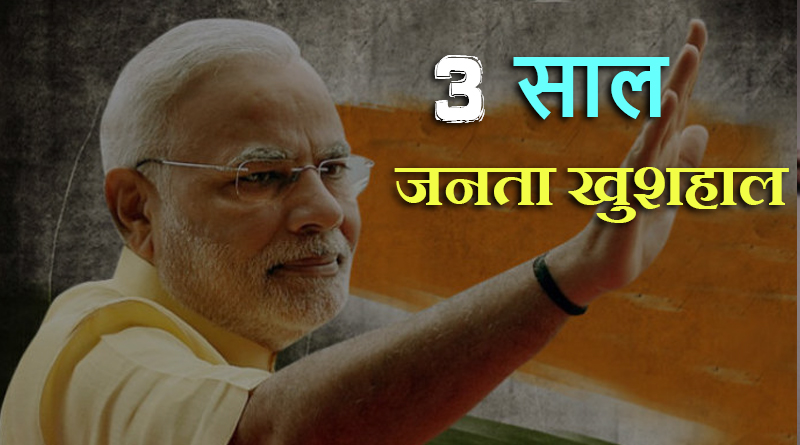 Narendra Modi has completed 3 years as PM. Now it's time to show the work done by modi govt. Decision and step taken by modi govt. has expressed that his vision of new India is very clear. No PM has ever dared to take such steps. He is the man who travels a lot with a meaningful purpose and make sure purpose will be achieved successfully. Few of remarkable achievement is mentioned below.
Jan Dhan Yojna
Jan Dhan Yojna is masterclass step taken by modi Govt for inclusion of every single person into banking system, Opening accounts, with zero balance. Though banks face huge loss due to this step, but it generated 6000 crores of deposits, bringing a lot of money back into the economy. Due to this at least people build the courage to face or have account in bank, which will later on liberates them from the claws of private money lenders for money.
Make in India
Modi govt. wants India to be exporter hub so that it will generate more jobs to youth and generate huge foreign currency via export. So Modi Govt. came up with slogan of "Make In India" to attract global investors in India to invest in manufacturing industry. In terms of tangible investments, India already attracted $31 billion FDI (higher than China and USA) in 2015. $11 billion investments have been pledged by various companies, Japan pledged $12.5 billion.
[the_ad id="685″]
Make in India defence
From last many years lots of people talking about the privatization of defence industry, but modi govt. did this under their Make In India movement. India is one of the biggest importers of weapons, spending billions in the international market. But as part of Make in India, Defence Ministry approved $3.4 billion deals to purchase weapons produced in India. These kind of deal will not only prevent Indian money leaving the country, but it will also promote local companies to setup in house technology development centre.
Below are the few achievement in defence sector Modi Govt. achieved in its period.
The President's visit to Vietnam resulted in India extending $ 100m export credit for defence deals.
Defence Cooperation Agreement with the US extended by 10 years. FDI cap raised to 49%.
Ease of doing business
In today's global world business is the core function of any economy and Modi Govt. has made easy to do business with its good governance. It's his effort that India climbed 12 spots in ease of doing business global rankings, and India overtook USA to become #1 in the consumer confidence index in 2015. This is a tangible outcome of administrative improvements, policy reforms, and a growing middle class.
Making PSUs profitable
Companies like Air India now became profitable for the first time in decades, and BSNL saw growth "highest in the last five years". So these are no longer a burden on the taxpayer, but now actually contributing positively to the economy.
http://www.hindustantimes.com/business/after-9-years-bsnl-to-make-first-net-profit-by-2018-rs-prasad/story-ZFwM9OHn5ZuSFLOpW3a3gK.html
Rural electrification
Modi government power ministry is doing great job bringing villages on the grid every day. In last three years more than 12000 villages have been electrified and they are focused to achieve the target of electrifying every village by 2019. Another very important tangible outcome of this effort has been transparency, with regular posts on social media and even a mobile app to track which villages have been electrified each day.
Clean energy
Since Modi Govt. comes in power India added 2,308.1 MW of wind power generation last year (10% of India's overall wind energy capacity added in just 1 year), and 2015 also saw $1 billion+ international investment in clean energy in India. In 2017 India moved up to the second in 'Renewable energy country attractiveness index' released by EY.
India ranked second in renewable energy attractiveness index 
[the_ad_placement id="before-content"]
Rolls out roads faster
Modi government works very hard to develop India in transportation. Making roads is one of his top priority. Data shows highway expansion has shot up by 122% during the first three years of Modi government and the pace of construction has gone up by 25%.
Govt. is also performing very well in shipping too. According to data 12 major ports shipped 745 million tonnes in 2012-13. In 2016-17 it got increased to 1,065 million tonnes. In cargo handled by these ports increased from 570 million tonnes to 648 million tonnes.
[http://timesofindia.indiatimes.com/india/nda-beats-upa-rolls-out-roads-faster/articleshow/58709063.cms]
One Rank One Pension
It's been more than decade when armed forces demanding for "One Rank One Pension" from govt. But Modi Govt. completed their wish and implemented the One Rank One Pension for armed forces (though some contention still exists) govt is in process to resolve them.
Nuclear deals
India wants to be develop as soon as possible. Therefore we have to generate huge amount of energy for our industry and homes. We are already importing large amounts of coal. Solar and wind alternatives are too expensive and may be a great deal in the future, therefore India signed strategic nuclear deals with Japan, Russia, Canada and France giving India access to unprecedented nuclear fuel and technology.
A deal with Australia has been struck to satisfy our hunger for more fuel.
Talks with Japan have advanced to the final levels. China and the US have agreed to cooperate with civil nuclear deals.
Hydroelectric project agreement has been agreed with Bhutan, which will also assist in flood control and irrigation. Don't you think all this will help none other than the common people?
Comments Your Suggestions