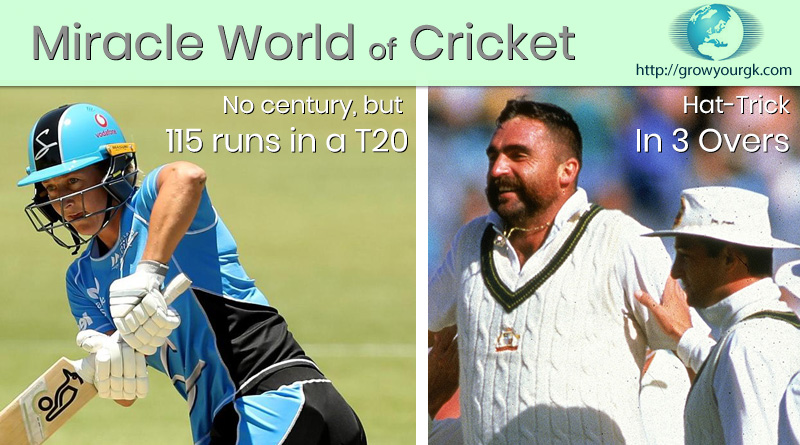 Cricket is the game of uncertainty things happen here which you can't even imagine.
We will let you know few of those miracle events!
How about No century, but 115 runs in a T20?
Do you consider it unfair if a batsman made 115 runs in a match and still it doesn't count as century? Sophie Devine the New Zealander women batman missed out on a century, in-spite of making 115 runs.
Why it's No Century?
Sophie Devine women batsman of Adelaide Strikers made 99*(not out) off 53 balls against Hobart Hurricanes. In super overs she score 16 more runs on 3 balls and seal an entertaining win.
But according to rules it doesn't consider as century.
Hat-Trick made in Three overs
Merv Huges the Australian bowler came up with unusual hat-trick that Hughes didn't immediately realize he'd taken one, and had to be told about it later.



How it become possible?
In 1988-89 the second Test against West Indies in Perth. Huges dismissed Curtly Ambrose with last ball of his 36th over.
Then he took another wicket of Patrick Patterson with the first ball next over in, which is the last wicket of West Indies. Till then he took 2 consecutive wicket.
In second inning when West Indies start batting Hughes trapped Gordon Greenidge in first ball of the match. Which complete his hat-trick.
Comments Your Suggestions