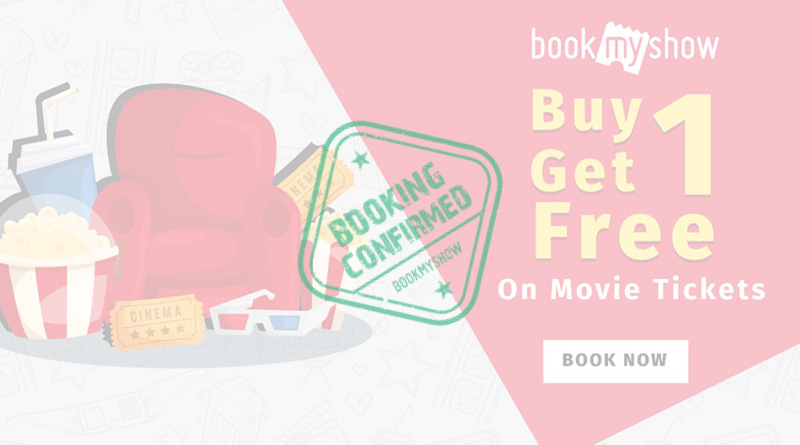 You have ICICI card with buy one get one movie ticket offer and failed to avail any! It might be think that they cheat you about their offering of BookMyShow.
What they don't inform you?
No of tickets
According to BookMyShow website's terms and conditions only to 200+ randomly selected customers, chooses based on transactions.
They have assign the time slot of choosing these customers for free tickets.
Each day in six blocks, starting at 10 A.M., 11 A.M., 12 P.M., 2 P.M., 4 P.M. & 6 P.M. until stocks last(200 customers Max).

In each slot only 200 customers will able to book buy one get one offer.
Max discount amount
Your Credit/Debit card offer of buy one get one offer comes with a maximum discount cap of 500 Rs. That means if your are booking a movie ticket priced at 1000 Rs plus. You are entitled of getting max discount 500 Rs.
For ticket price of Rs 900 Discount will Rs. 450 and rest Rs. 450 you have to pay, but for the ticket price Rs. 1200 you will get discount of Rs. 500 and rest you have to pay.
Read more credit cards
Trick to get buy one get one offer
Remember the slot timing of offer and login BookMyShow near about that time and your show reach to payment option screen shown below.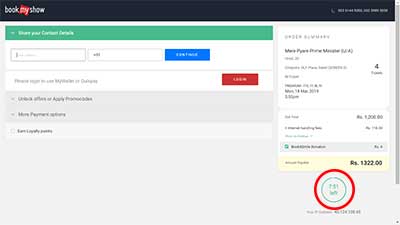 Now becare full about the time of reaching on payment screen. BookMyShow give 8 minute window to enter your payment or offer selection.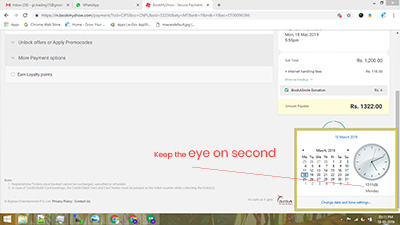 Make it sure your offer slot time fall between these 8 minutes. Now open the watch of your system watch available right hand side in bottom. When hit check button as it become one second more that slot time.
In 99% of chance you get your free movie ticket every time you follow the steps.
Tags: icici coral credit card offer, how to get free tickets in bookmyshow, icici expression coral debit card, avail buy one get one movie ticket offer
Comments Your Suggestions