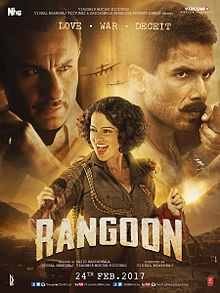 Vishal Bhardwaj is ready with his new upcoming film
Rangoon which is produced by Sajid Nadiawala, Viacom 18 Motion Pictures and himself. Kangana Ranaut opposite Shahid Kapoor with saif ali khan are in lead role in this film. The film is scheduled for release on 24 February, 2017. Vishal was supposed to shoot the film after "Omkara". It was previously titled Julia and screenplay was written by Matthew Robbin.
About Film
Film is based on love story between saif, shahid and Kangan Ranaut. Saif plays a rich, Mumbai-based theatre owner while Kangana Ranaut is the prime attraction at Saif's establishment. When Kangana is sent to Burma (now Myanmar) to encourage Indian army fighting for British in World War II, where she falls in love with Shahid Kapoor who is an Indian soldier.
[the_ad id="685″]
Special about film Rangoon
Film's shooting was halted due to an injury to Shahid
World War II has never been captured on the Indian big screen
Shahid Kapoor and Saif Ali Khan has never shared the big screen previously.
Rangoon Official Trailer
Download Song
Bloody Hell Video Song

Rangoon | Saif Ali Khan, Kangana Ranaut, Shahid Kapoor

Download MP3
Download Video
Yeh Ishq Hai Video Song

Arijit Singh |Rangoon | Saif Ali Khan, Kangana Ranaut, Shahid Kapoor

Download MP3
Download Video
Tippa Full Audio Song

Rangoon | Saif Ali Khan, Kangana Ranaut, Shahid Kapoor | T-Series

Download MP3
Download Video
Alvida Full Audio Song

Rangoon | Saif Ali Khan, Kangana Ranaut, Shahid Kapoor | T-Series

Download MP3
Download Video
Shimmy Shake Full Audio Song

Rangoon | Saif Ali Khan, Kangana Ranaut, Shahid Kapoor | T-Series

Download MP3
Download Video
Be Still Full Audio Song

Rangoon | Saif Ali Khan, Kangana Ranaut, Shahid Kapoor | T-Series

Download MP3
Download Video
Comments Your Suggestions